John is an actual patient living with seizure clusters.
NAYZILAM® (midazolam) nasal spray, CIV is a prescription medicine used for the short-term treatment of seizure clusters (also known as acute repetitive seizures) in patients 12 years of age and older.
The carry-with-you nasal spray that fits in your pocket or purse.
Can be administered by anyone, anywhere—at home, school, work, or enjoying the outdoors—if a seizure cluster strikes. Prior to using NAYZILAM, the person giving it should know how to identify seizure clusters and how to use this rescue treatment appropriately.
Can be given during or immediately after the first seizure if a cluster occurs, even if the person is unconscious—no inhaling is necessary.
NAYZILAM is different from daily epilepsy medications prescribed to manage epilepsy. Keep taking your daily seizure medication as directed by your healthcare provider, and use NAYZILAM when you need to treat a seizure cluster.
Do not use NAYZILAM if you have an eye problem called acute narrow-angle glaucoma.
Midazolam, the active ingredient in NAYZILAM, belongs to a class of medications called benzodiazepines [ben-zoh-dahy-az-uh-peens]. Benzodiazepines, sometimes called "benzos," have been an important treatment option for epilepsy for decades. They are central nervous system depressants and have an anticonvulsant effect thought to occur by making the nerves in the brain less sensitive to stimulation.
SELECT IMPORTANT SAFETY INFORMATION
NAYZILAM is a benzodiazepine medicine. Taking benzodiazepines with opioid medicines, alcohol, or other central nervous system depressants (including street drugs) can cause severe drowsiness, breathing problems (respiratory depression), coma, and death. There is a risk of abuse, misuse, and addiction with benzodiazepines, including NAYZILAM, which can lead to overdose and serious side effects including coma and death. Benzodiazepines, including NAYZILAM can cause physical dependence and withdrawal reactions, especially if you continue to use NAYZILAM daily. NAYZILAM is not intended for daily use.
For more information, please see:
Important Safety Information | Prescribing Information | Patient Medication Guide | Instructions for Use
Stop seizure clusters so they don't stop you.
With NAYZILAM within reach, now you can be ready to treat them quickly.
How NAYZILAM can help
Now you have the reassurance of NAYZILAM within reach to help manage seizure clusters quickly and get back to your day.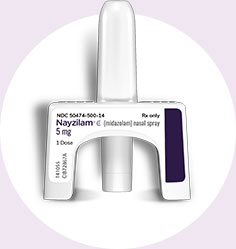 NAYZILAM MAY HELP YOU TO:
STOP SEIZURE CLUSTERS WITHIN MINUTES


Prevent further seizure activity for up to 6 hours

GET BACK TO FEELING LIKE YOURSELF 
WITHIN HOURS
KEEP MORE SEIZURES FROM RETURNING 
FOR 24 HOURS
NAYZILAM may cause serious side effects, including impaired mental alertness including memory problems.
The most common side effects reported with NAYZILAM use include:
Sleepiness
Headache
Nasal discomfort
Throat irritation
Runny nose
These are not all the possible side effects of NAYZILAM. Call your healthcare provider for medical advice about side effects.
In a study, NAYZILAM helped the majority of patients to
stop a seizure cluster fast and return to function within 90 minutes.