Nick G. is an actual patient living with seizure clusters.

ABOUT USING NAYZILAM
It's important to know a few things before you or someone else administers NAYZILAM® (midazolam) nasal spray, CIV, so everyone can feel more comfortable using it. 
NAYZILAM is not intended to be taken daily. Use exactly as your healthcare provider tells you to use it (in the nose, never more than two doses). If you use too much of this medication, call your healthcare provider or go to the nearest emergency room right away. 
If the seizures do not stop after the nasal spray is used, get emergency medical help right away. 
Do not use this medication for more than 1 seizure cluster episode every 3 days and no more than 5 seizure cluster episodes per month. 
Please see the Patient Medication Guide for more information.
 
For more information, please see: 
Important Safety Information | Prescribing Information | Patient Medication Guide | Instructions for Use
NOW YOU CAN FEEL READY
TO TREAT SEIZURE CLUSTERS ANYTIME WITH NAYZILAM.
HOW TO GIVE NAYZILAM
NAYZILAM is a ready-to-use nasal spray that can be given by anyone, whenever seizure clusters occur.
The complete steps on how to use NAYZILAM are found in the full Instructions for Use. An overview of the steps is below.

HOLD
Hold the nasal spray device with your thumb on the plunger and your middle and index fingers on each side of the nozzle.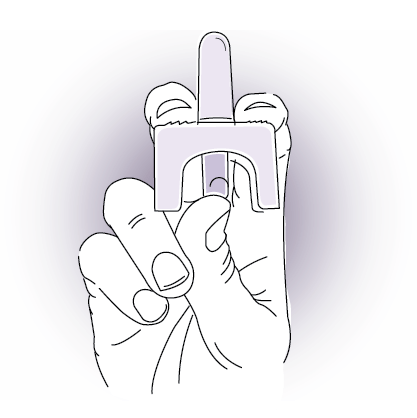 Do not press the plunger yet.

PLACE
Place the tip of the nozzle into one nostril until your fingers are against the bottom of the patient's nose.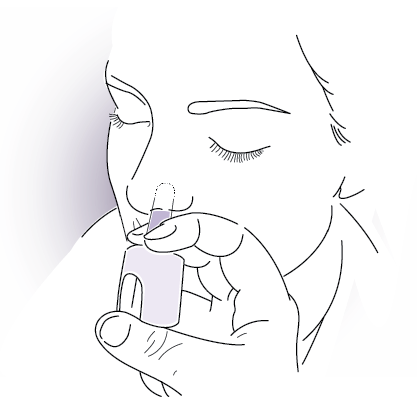 PRESS
Press the
plunger firmly.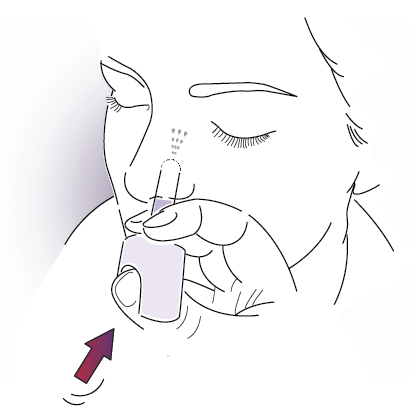 WATCH HOW-TO-USE VIDEO
This video features step-by-step instructions on how to use the nasal spray device properly.
This information does not take the place of talking with your healthcare provider. If you have any questions about your condition or NAYZILAM, please speak with your healthcare provider or pharmacist.