For Healthcare
Professionals
Eva W. is an actual patient living with seizure clusters.
Eva's mother is an employee of UCB, Inc.
NAYZILAM: A ready-to-use treatment for seizure clusters
NAYZILAM® (midazolam) nasal spray, CIV is a rescue medication indicated for the acute treatment of intermittent, stereotypic episodes of frequent seizure activity (i.e., seizure clusters, acute repetitive seizures) that are distinct from a patient's usual seizure pattern in patients with epilepsy 12 years of age and older.
On this page, there is a variety of information about NAYZILAM that you may find useful.
You can review details about dosing, patient savings, and Prescribing Information.
You can also request a training kit and register to receive other NAYZILAM product information.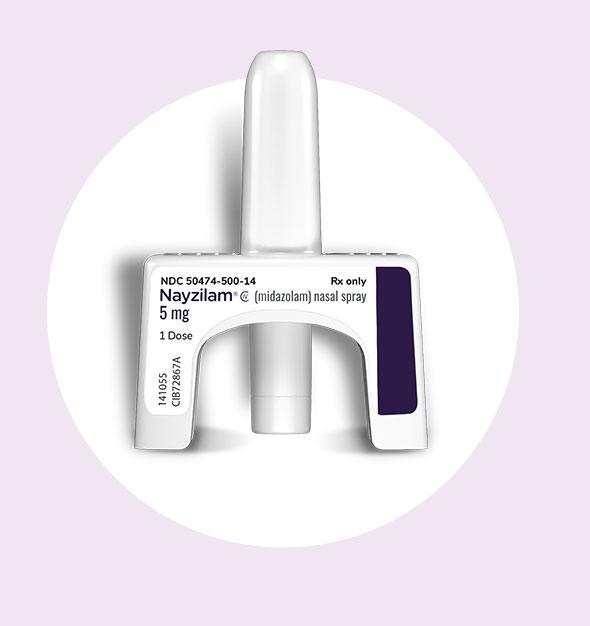 Dosing and how to administer
NAYZILAM can be administered by a non-healthcare professional and no priming is necessary. This rescue treatment may be administered to a patient during or after a seizure within a cluster. NAYZILAM requires no active inhalation and can be used whenever a seizure cluster occurs — at home, school, or work.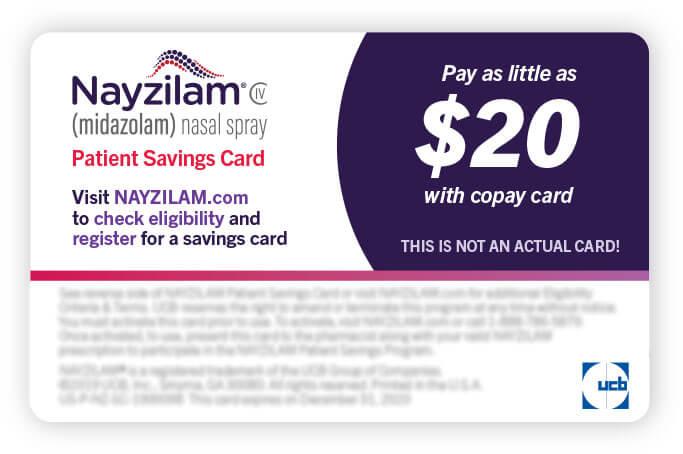 SAVINGS AND ACCESS FOR PATIENTS
Discover how you can help make NAYZILAM more affordable for patients with the NAYZILAM Patient Savings Card.
There are three ways that your eligible commercial patients can check their eligibility and sign up for savings:
Register on the NAYZILAM Savings page
Text "JOINNAYZ" to 50566 to sign up for NAYZILAM Patient Savings Card and SMS product reminder alerts. Message and data rates may apply. Four (4) messages per month.
Call 1-888-786-5879
Financial assistance may be available for NAYZILAM patients. The NAYZILAM Patient Assistance Program may be able to help if your patients do not have health insurance or otherwise cannot afford NAYZILAM.
To learn more about the NAYZILAM Patient Assistance Program or to find out if your patients might be eligible for assistance, please contact ucbCARES® at 833-948-2394 or ucbCARES@ucb.com.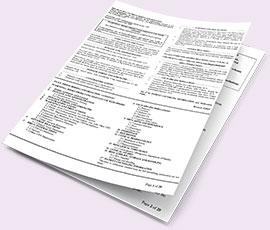 Prescribing NAYZILAM
Here are some considerations for prescribers prior to initiation of treatment.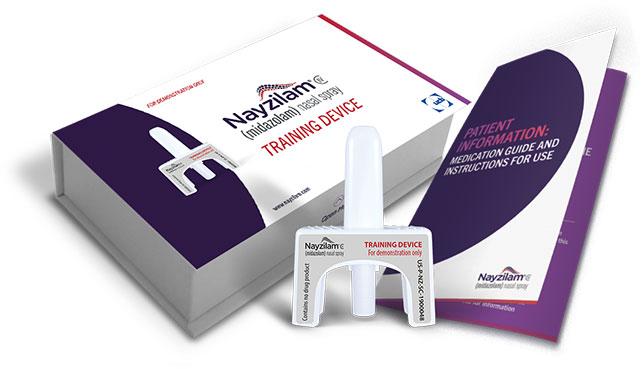 Request a NAYZILAM
training kit
The NAYZILAM training kit includes information to help patients and their caregivers practice how to give the nasal spray, so everyone can feel reassured that they know what to do during a seizure cluster. See what's inside the training kit.
The training kit includes one training device, which is meant to model the real NAYZILAM product in look and feel, but without any actual medicine. Holding the device and pressing the plunger will simulate what it feels like to use an actual device. This training device can be reset and practiced with repeatedly, while the prescribed device with medication can only be used one time.
Already have a training kit and would like to order more? Learn how to request additional training kits here.
Receive product information
You can register to receive relevant information or any updates about NAYZILAM by filling out the form below. When registering, you may also request a NAYZILAM training kit by mail.
ARE YOU A SCHOOL NURSE?
CLICK FOR MORE INFORMATION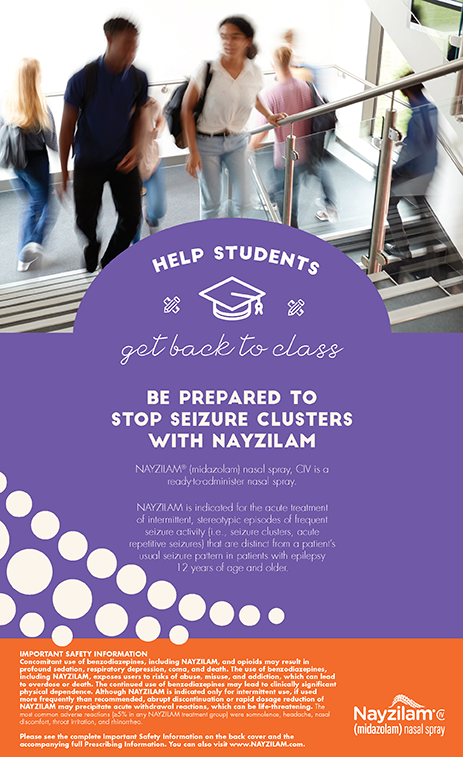 CONTACT

ucbCARES helps patients start and stay on treatment as appropriate. Contact ucbCARES for support regarding UCB neurology prescriptions.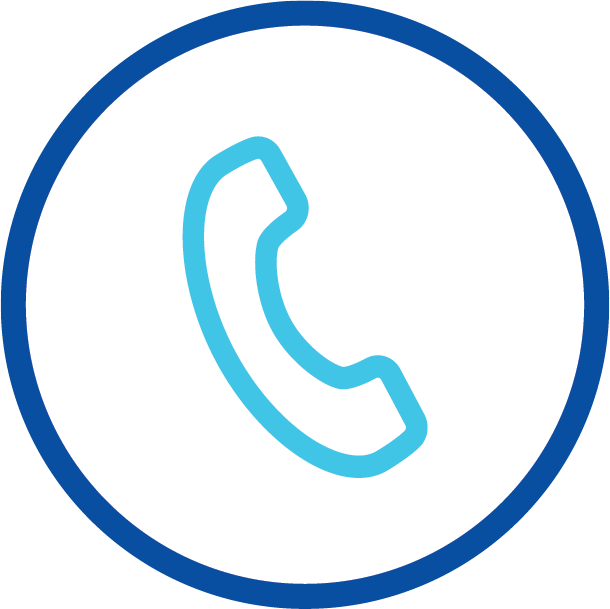 Call 833-948-2394
Monday through Friday,
9:00 AM to 6:00 PM ET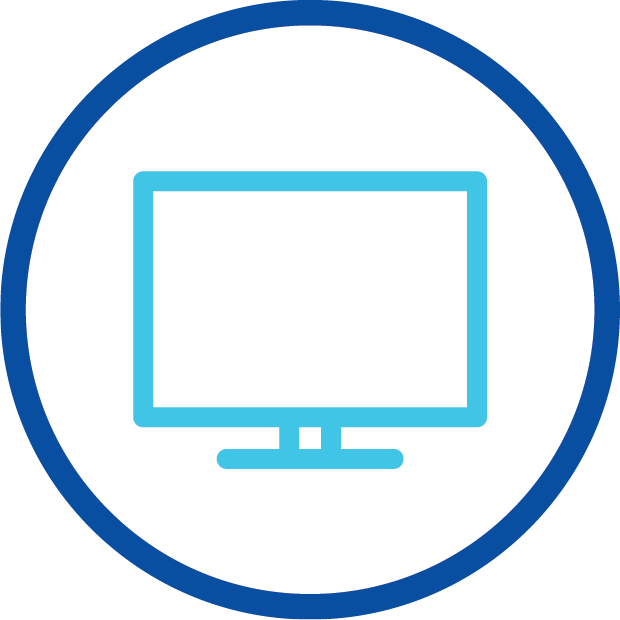 Visit
ucbCARESneuro.com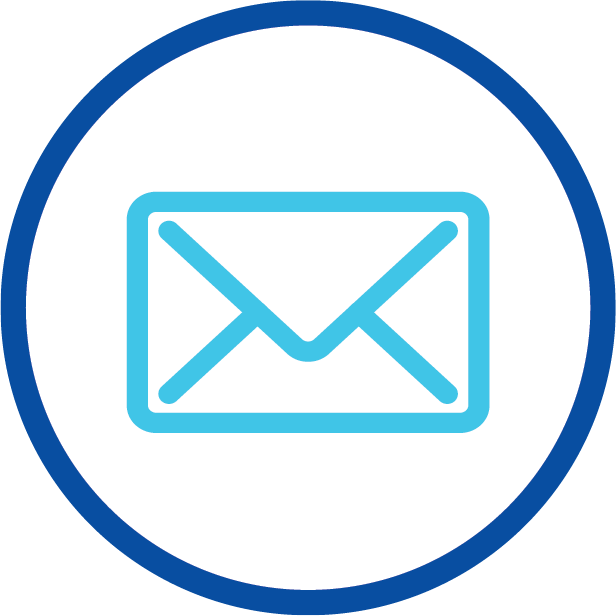 Email
ucbCARES@ucb.com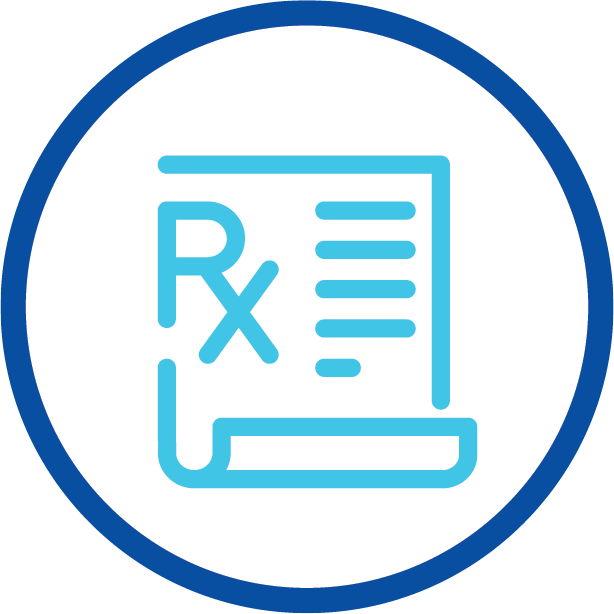 Submit e-Rx for NAYZILAM to
NCPDP #5910206 (Sonexus™ Health Pharmacy) to fax Rx to 855-338-1386
NCPDP = National Council for Prescription Drug Programs.